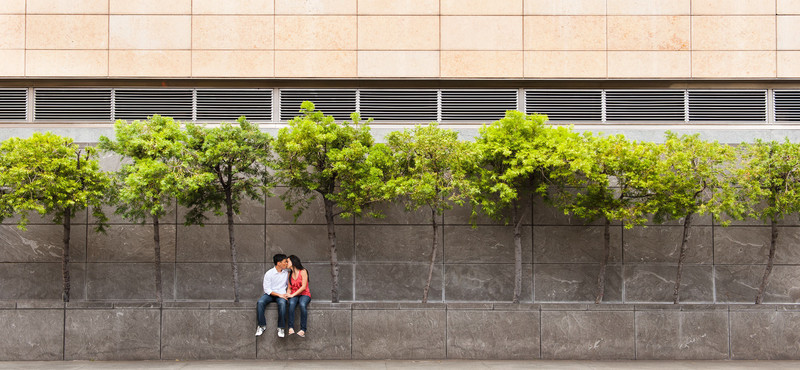 Self-portrait engagement photo.


About Kevin
My interest in photography began when I started to travel the world and see places and things that I wanted to document for my own memories. In 2002, I shot my first wedding and immediately fell in love with photographing people after seeing the impact that my work could make on peoples' lives. But even then, it wasn't until 10 years later when I got engaged that the significance of a wedding truly resonated with me.
My wife Loretta expressed the importance of celebrating with the people who were near and dear to our hearts — that a wedding was not just an event, but a special occasion meant to be shared with our family and friends. Today, my wedding work is not just about capturing the details that are meticulously planned, creating amazing portraits of brides and grooms, or shooting the formal events throughout the day; it is about documenting all the fleeting moments that are treasured forever — the first time a groom sees his beautiful bride walking down the aisle, the moment a father gives his precious daughter away, the sheer joy of two people starting a new chapter in life, and the loving relationships among families and friends.
Photographing weddings is not just for my own memories, nor just for the memories of my clients; it is also for the future generations of their families to cherish.
I am honored and humbled by all of the couples who have trusted me to enter their lives on such an intimate occasion and immortalize such memories. It is this level of trust that moves me to continue this journey as a wedding photographer. With each and every wedding, I am reminded of how blessed I am to have a wife who truly values this celebration and the importance of relationship. I would be grateful for the opportunity to be a part of your special day.
---
Profile
Kevin Lubera is an international award-winning wedding photographer based in Hawaii on Oahu and Maui. He has photographed weddings, events, and portraits in over a dozen states as well as numerous worldwide destinations, including Napa Valley, Carmel, Pebble Beach, Beverly Hills, San Francisco, Santa Barbara, Scottsdale, Dallas, Las Vegas, New York, Miami, Italy, France, Spain, South Korea, Philippines, Mexico, and the Caribbean.

Kevin's work has been featured and published in a variety of media, including Grace Ormonde Wedding Style, Aisle Planner, People, Pacific Weddings, Los Angeles Weddings, Food Network, Emirates Bride, Scripps Networks, California Wedding Day, and InStyle Weddings.
---
Notable Subjects
Wolfgang Puck
Gelila Assefa
Sir Elton John
Dr. Phil
Vittorio Grigolo
Vanessa Williams
Dr. Bill Dorfman
Macy Gray
Virginia Madsen
Robin Leach
Christina Aguilera

Babyface
Rivers Cuomo
Thierry Stern
Tila Tequila
Charlie Clouser
Rebecca Romijn
Jerry O'Connell
Josh Duhamel
Fergie
Nobu Matsuhisa
Keshia Cole