Surprise Engagement Proposal Photos
Hawaii offers some of the best locations for surprising your girlfriend with a proposal. In general, there are three ways we can make this happen. See which scenario best suits you and your situation, and then contact us for a quote.
Please be sure to read the section on the Importance of Planning.
Private & Scenic
A relatively private location chosen for its scenery.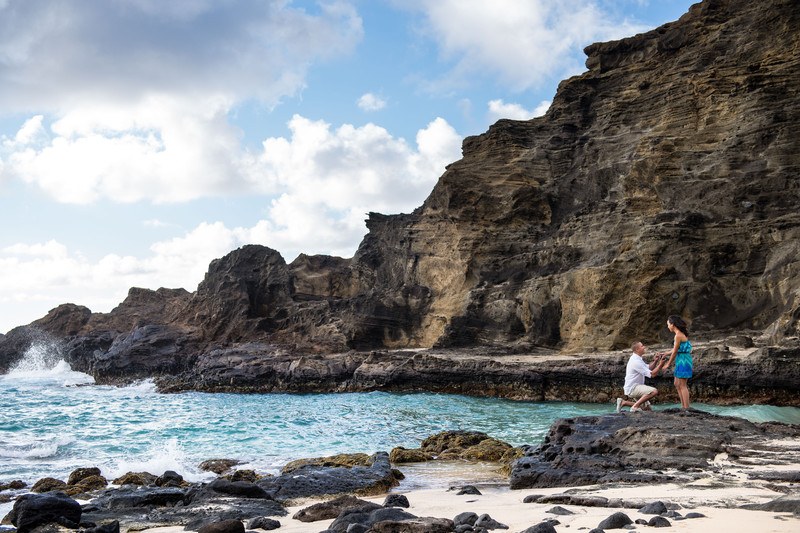 Benefits
Scenery adds artistry to the overall photograph
Planned so that you're the only ones in the photos
Private space for your conversation
Great when you want additional time for more photos after she says 'yes'
Challenges
Requires careful planning
Location scouting may be necessary
Exact proposal spot at location must be predetermined and agreed upon
Not as convenient, as location may require some hiking
Public & Incognito
In a public location where the photographer blends into the crowd.

Benefits
Easy access (doesn't require much hiking/walking, if at all)
Exact proposal spot is flexible; just pick a spot that works for you at the moment
Witnesses from the crowd may add interest and proof of authenticity
She will most likely not anticipate your proposal
Challenges
Not best environment if you want to be the only people in the photos
You'll have to be aware of your surroundings before you make your move
Witnesses may become obstructions
Not best if you are uncomfortable in crowds
Planned & Extended
Plan a photo shoot with her and surprise her during the session.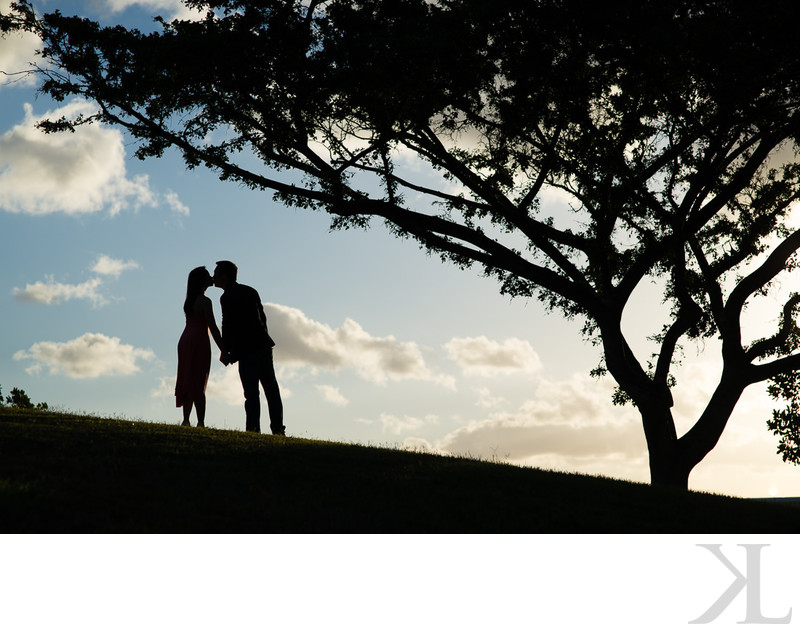 Benefits
She will be well-prepared (hair, makeup, wardrobe) for photos
Most likely to be punctual, since there is an official start time for photography
Allows for photographs before and after she says 'yes'
Easier to direct you to the ideal spot to capture the proposal
Challenges
She may be suspicious of a proposal
The Importance of Planning
What might seem like a simple photograph actually requires a lot of planning to execute well. All of the details must be planned -- the exact time to meet, location to meet, the specific spot you will be standing in, where your photographer will be, and at what angle(s) you should be facing in relation to your photographer. Once the planning is complete, you have absolutely no opportunity to communicate with your photographer in the moments leading up to your proposal.
In the photograph below, the proposal was planned within 20 minutes via text messaging before the couple headed out to a nice dinner; he had to be extremely secretive about it while she was getting ready. It was a complete last minute decision to have this moment photographed, which was shot within 2 hours of inquiry (there was travel time involved).
In this case, we only had enough time to agree on a general location to meet. The gentleman was informed that I would be at the location photographing my wife and daughter so that he could confirm that I was indeed there to capture the moment without his girlfriend being suspicious of him looking for someone; you definitely don't want to just stand there worrying if your photographer is there, and you most definitely don't want to pull the trigger when your photographer isn't ready for you. As soon as he saw me, he went down on his knee (a total surprise because I wasn't aware he'd do it so rapidly), and I had to quickly decide on how to shoot it. Fortunately, their positions and angles in relation to where I was allowed me to photograph the iconic rainbow tower at the Hilton Hawaiian Village. Unfortunately, there were some tourists just on the other side of them, cluttering the background of the photo. While this couple was completely ecstatic after they saw their photos, it could have been executed much better with proper planning.
Whatever you do, do not underestimate the amount of planning that is required to make this work. Choose a photographer who is experienced at doing this type of photography.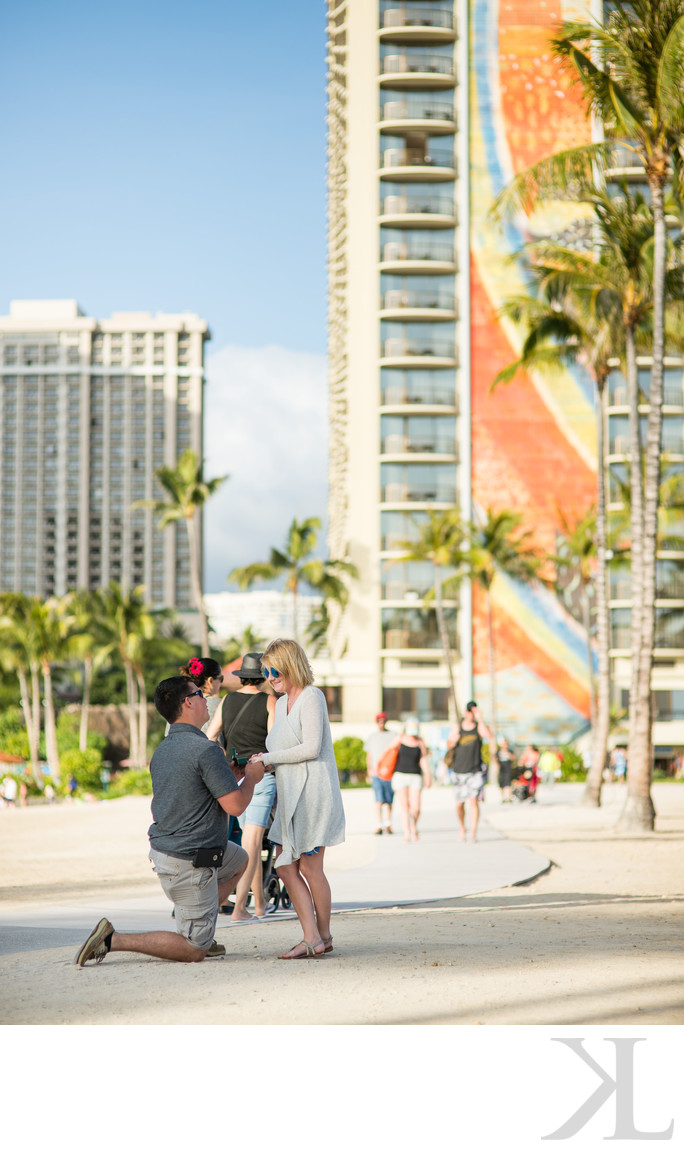 Pricing
Due to the amount of variables involved in planning a shoot like this, pricing is determined on a case-by-case basis. Please contact us with your general ideas and we can work together to plan and execute the perfect proposal photo for you.